The other day I was watching the show Extreme Couponing on TLC.
I was amazed at the time and commitment these individuals had for their craft. With the chaotic schedules most of us live, how is it possible to devote that much time and energy into saving money?
Isn't there an easier way other than devoting your life to couponing?
When searching for anything from groceries to appliances, finding the best deal can be challenging and time-consuming. Luckily there are plenty of websites catered to busy individuals looking for the best deals.
These sites have made it simple for a "Newbie Couponer" to feel like an "Extreme Couponer" in no time. Finding the best deal has never been easier. We are in constant search of ways to save money and couponing can yield exceptional results.
Each of the following sites has their own approach and are all free to use. It is up to you to decide which fits your lifestyle.
Savings.com
Savings.com helps the consumer find the best deal on what they are in search of. The website is broken down into online coupons, in-store printables, amazing deals, and expert advice. Savings.com gives you everything from expert bargaining advice to all of the can't miss deals in your area. In order to receive the coupon or the exclusive deal, you will have to enter your email address for future promotions.
Savings.com's Favado tab lets you select your location and populates the best deal for the groceries on your shopping list. You can search any item on your list to see if there is a savings opportunity at a different store.
The Grocery tab has a list of recent coupons you can print off and use at your local store. You would want to check this site out weekly in order be sure you don't miss a coupon you are waiting for.
Lastly, the Local tab is linked to Groupon. Instead of visiting both sites you can search your local deals in one stop.
Pros: If you are in search of a specific item, this site is perfect for you. It will give you the best deal on an item across multiple websites. You can also sign up for Savings.com's newsletter in order receive exclusive deals.
Cons: Some of the highlighted deals expire before you have the chance to purchase the item. Don't get your hopes up when you see an item you have been waiting for, the deal may have already expired.
Best for: Beginning bargainers.
Brad's Deals
When you visit Brad's Deals you will instantly be asked for your email address in order to get the deals on the site. They will send you a confirmation email with all of the best picks of the day. Brad's Deals is simple to navigate and find what you are looking for. Listed on the home page is the most popular, newest, and exclusive deals.
When clicking on your desired deal, the site will navigate you to the online store where you can purchase your item(s). The search bar allows you to search by brand, item, or deal if there is something specific you are in pursuit of.
Pros: If you enjoy browsing or are in need of a gift, this site may be a great fit for you. There are thousands of options in any price range.
Cons: You must enter your email address upon entry of the site. If you just want to browse, you still have to create an account.
Best for: Browsing consumer.
Get started with Brad's Deals.
Slickdeals
When initially visiting the Slickdeals site, it can seem a bit overwhelming. The home page has a variety of deals with a variety of items. Everything from disinfecting wipes to a Panda Express gift card is posted on the home page. You have the ability to search by category which makes the site less overwhelming when diving into what you are there for.
You can search the site by stores, deals, or basic items that pique your curiosity. There is also an interactive feature to the site that allows you to communicate and share ideas with other bargain hunters. You can select a category you wish to discuss and then converse with people who have the same interest.
Pros: Slickdeals gives you the option to select a deal alert for items you are in pursuit of. They will send you an email when there is a price movement on your selected item. Also, the Forum section can be extremely helpful when acquiring advice from other consumers.
Cons: The home page is overwhelming and can take you down a black-hole of bargain hunting. It is challenging to see the best deal when there are so many listed on the home page.
Best for: Passive shopper.
Get started with Slickdeals.
Dealspotr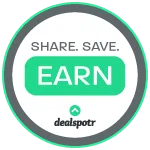 Doesn't everyone like to customize their shopping experience? Dealspotr is perfect for the bargainer hunter who loves specific brands and/or categories. Upon entering the site, you will be asked to set up a username and select categories and stores you would like to follow for the best deals. Customizing your shopping experience takes away the clutter of deals you are not interested in.
As with most sites, you also have the ability to search stores and items outside your selected criteria. Dealspotr also is a social media community. You can interact with your friends and share deals. This gives an element to the site that creates more connection and inspiration within your social circles.
Pros: If you enjoy shopping with you friends and family, this is the perfect site for you. Dealspotr adds a social aspect to bargain hunting.
Cons: You must create a user name and your own login in order to enter the site.
Best for: Social butterfly shopper.
Get started with Dealspotr.
MyCoupons.com
Mycoupons.com was created with the vision to be the best coupon and discount site there is. They have done a great job creating an easy to navigate site. You can search the site by category or store. At first glance it doesn't look as though they have as many options but once you take a closer look you can find almost anything on this site.
Mycoupons.com's mission is to create a community of people sharing deals and discounts with the people they love.
Pros: The site has created a community of people wanting to share bargains and deals. This adds a social aspect to deal hunting.
Cons: At first glance the site doesn't look like it has many deals. You will have to search to find the deals you are in pursuit of.
Best for: Word of mouth bargainer.
In the chaotic world we live in, it can be challenging to save let alone find the perfect deal on something you need. These sites are here to navigate you through the chaos and help you save a little money in the process.
Spend a little bit of time and research finding your perfect item with the help from the sites above. You don't have to be an "Extreme Couponer" in order to find the best deal.
Get started with Mycoupons.com.